Outdoor Living Space Design
Herb Gardens are a great way to fill up your flower beds, keep the weed down and help your grocery bill.
I am Greek and I love Greek Oregano.  We planted a bit in 2 spaces 6 years ago when we moved into this house.  It has taken over the flowerbed, offers great ground cover, since it is dense, it blocks out many weeds that would take over the flower bed, comes back every year, and is easy to tend.  Just before it flowers, cut it back and dry it in the sun.  I use an old torn window screen, wash the stems, and lay them out.  Once dry, bag it in a zip lock or crush the leaves and bottle it.  We just opened a bag that we dried 2 years ago and it is fine.  We bag fresh cut and give it to friends to dry and use.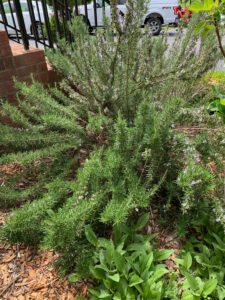 Rosemary is another plant that loves our flowerbeds that do not have the best soil.  It has a lovely flower and attracts pollinators.  ("You don't like Meat? It's ok.  I give you Lamb!"  Big Fat Greek Wedding). Poke holes in your lamb, shove in rosemary and garlic, and enjoy!  This combo can be used for pork loins and tenderloins also.
Other options include Thyme, Chives, Sage, Dillweed (which is great for Tzatziki to add to your lamb leftovers as a sandwich and use up excess cucumbers from your summer garden –
healthy and easy to make with good Greek Yogurt) and mint.  All of these are easy.  I love hitting the mint with the lawnmower.  (Mint grows like a weed also).  
I have never had any problems planting any of the above in the yard. I do nothing special – just shove them in the ground and they take over.  Dill will reseed itself.  
Basil is a little finicky.  We keep it in pots on our front porch and plant it around our tomato plants which helps keep bad bugs away.  (Tip: Cut the fresh basil, make the pesto by the batch, and fresh it for easy pesto pasta dinners in the winter.)
Herbs are great for the home and garden.  Mix them in with your interior decorating and landscaping for 
carefree plants year-round.
Call Ampa Creative Home for more creative ideas for your interior and exterior decorating and design.  Bring the outdoors in and the indoors out onto your deck.  Ask us to design refreshing new looks for your deck including stains, painting, decorative painting of themes, furniture, plants, curtains, shade pergolas and more for a renew deck as a living space.
Carpenters, designers, theater technicians and creative people – what a great combination for creative home projects and repairs.  Our skill set is perfect for the home, home improvement, and repair.