Often with a repair, you just have to work with whatcha got…  This project was a bit surprising.  The house was only 9 years old.  You might expect deck stair, especially pressure treated lumber, to last longer than that.  
First, we exposed the areas by moving the dirt to assess the extent of damage.  As you can see, the left post had rotted through as well as 2 stringers.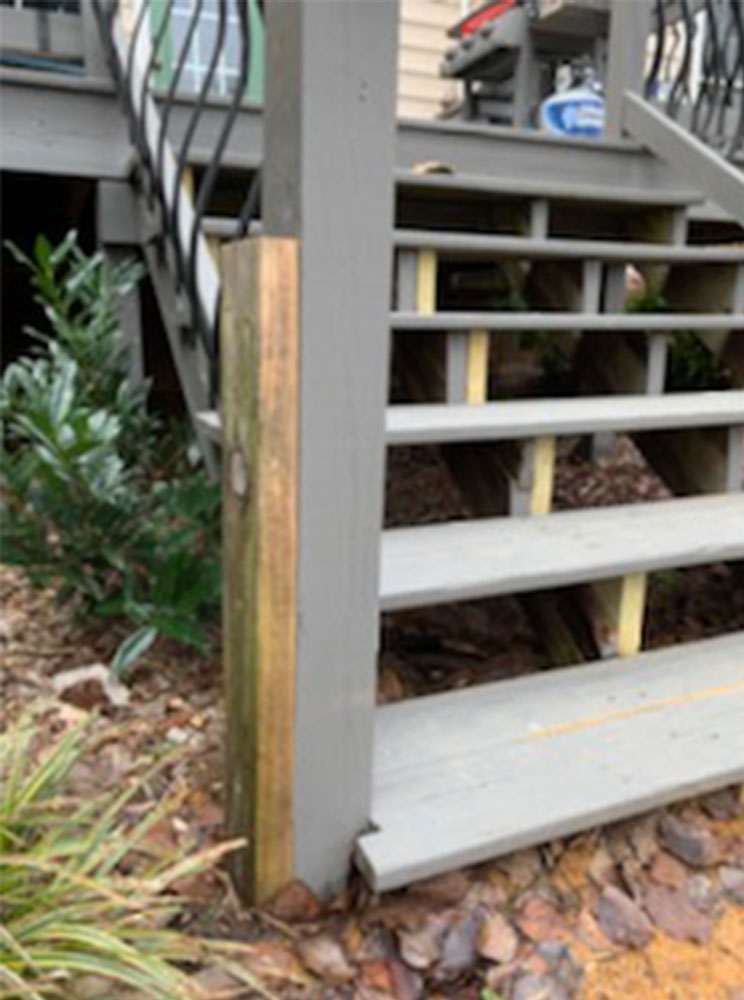 Second, we assessed our material needs.  Were the stringer custom cut on site or where they purchased off the shelf. We added concrete block to our supply run to support the new stringers vs merely setting them in the clay.
  After excavating, we prepare the clay bed, place the blocks and rested the stringers on the blocks giving the client the desired quick fix before they left town that would last until there renovation.
The client wanted the job done in 1 day with the instructions that within the next couple of years, they would be adding on to the back of the house.  The quick, but good, fix was the order for the day.
To access the stringers, we had to remove all the treads.  The stringers were solid but for their rotten foot.  We had to tweak the rise and run on the stringer material to match and laminated the new material to the old attaching to the deck at the top also.  At the foot, we shored up the clay and compacted it, pushing in the concrete block for the stringers to rest on.  The post was totally rotted through but all the wrought iron was holding it all together.  We excavated a bit, cut a point on pressure treated 2×4 and anchored it deep into the clay, securing with the galvanized screws.
Since the home owner wanted a quick repair, we discussed the scope of work and our proposed repairs in detail first, received approval and then wrapped up the project.
Ampa Creative Home offers finish carpentry, interior design, and handyman services in the, Richmond, Virginia Metro area. We are very good with wainscoting wall panel, finish carpentry painting and artistic projects. In general we are problem solvers and get the job done.
Give us a call at 804-358-5451
Carpenters, designers, theater technicians and creative people – what a great combination for creative home projects and repairs.  Our skill set is perfect for the home, home improvement, and repair.